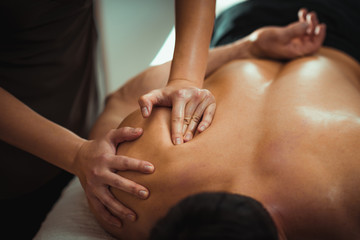 There are many reasons that local residents are saying that Say fitness is the best place to come for massage therapy in Deerfield Beach. The benefits of massage therapy at Say Fitness ranges from treating chronic diseases and injuries to alleviating the growing tensions of your hectic lifestyles; and it does way more than just relaxing your body and mind. Therapeutic massage has become one of the premiere modes of healing and treatment for a variety of health and wellness issues for local residents in Deerfield Beach, thanks to the expert team of physical fitness professionals at Say Fitness! Years of use of our bodies require that we undergo a certain amount of therapeutic treatments and "maintenance." Just as your home and car will certainly require some improvements over time, so too will your body. Restoring your own personal bodywork to its prior glory, or in some cases doing a complete renovation, is all that is required to put that extra skip back into your step.  
How Massage Therapy 
a
t Say Fitness Can Help You
Massage therapy at Say Fitness in Deerfield Beach is a form of body sculpting and massage which stimulates the deep layers of the skin and the muscle. This encourages the flow of oxygenated blood to the area, which provides the nutrients necessary to improve the condition of your skin – as well as helping the lymphatic system to remove any toxins and excess fluid. We are all special and unique. That's why our custom massage allows our massage therapy experts to incorporate multiple massage and therapeutic techniques to accommodate your body's exact needs and benefits. Massages have been shown to greatly benefit your overall health and wellbeing, combat daily stress, re-energize your mind, and leave you with a feeling of serenity and vitality. Each massage therapy modality is used on an individual basis for conditions like back tension and nervousness, rehabilitating accidents, lymphatic drainage, and so much more! 
As an added benefit for many of our Say Fitness clients who are concerned with losing weight and body contouring, using the right massage technique for you can also potentially break down the fat cells that build up under your skin, which stretch and pull on the skin's connective tissue, causing that dimpled effect of your cellulite. Physically breaking up these deposits and promoting better circulation in the area to help remove them is one of the main reasons why a good anti cellulite massage can be so effective! 
Massage therapy also reduces stress on your weight-bearing joints, encourages blood and lymph circulation, and helps relax nervous tension, which aids in better sleep and helps relieve depression or anxiety caused by hormonal changes. The two most popular forms of massage therapy are: 
1) Swedish therapeutic massage: this lipotropic plus leisure therapeutic massage is practiced in settings like spas, wellness facilities, and lodges. Relaxing the entire body is accomplished by rubbing the muscles with long, fluid strokes in the direction of circulating blood returning to the heart. Swedish massage is exceptionally beneficial for increasing the level of oxygen in the blood, decreasing muscle toxins, increasing flexibility, and improving circulation while easing tension.  
2) Deep tissue therapeutic massage: HCG rehabilitative therapeutic massage – sometimes called, scientific, healing, or medical therapeutic massage is practiced in settings like clinics, hospitals, and chiropractic offices. Deep tissue massage utilizes the application of a more intense and deeper pressure. It is specifically beneficial in releasing chronic muscle tension. Attention is given to the deepest layers of muscle tissue, tendons, and fascia (the protective layer surrounding muscles, bones and joints).  
At Say Fitness, we offer a full range of spa services and add-ons to our massage regimen with therapies like an energy healing sessions and facials. We offer the following special massage therapies:  
Deep tissue

 

Sports

 

Muscle release technique

 

Injury treatment & assessment reflexology

Pre-natal

Sacred stone 

Chair massage

Stretching 

Energy healing 

Yoga

 
Every massage therapy session at Say Fitness is customized to meet your needs. Our certified specialists will work from head to toe along with the added benefits of 100% pure essential oils aromatherapy, a cooled face cradle, use of heat on the back and neck, hot towels for the feet, and a finishing touch of a light, refreshing, natural, hydrating mist of a hydrosol spray to ensure the most transformative massage. 
With all of these amazing benefits of massage you're probably wondering why you haven't contacted Say Fitness for your massage therapy session yet! Your health and wellbeing is important to us! Call Say Fitness today to find out just how miraculous massage can be for treating a variety of health and wellness issues. 
(954) 421-2116