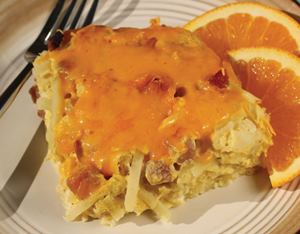 Preparation Time: 20 minutes
Bake Time: 35 Minutes
Serving Size: 4 servings
Ingredients:
4 cups Shredded Frozen Hash Browns
1½ cups Egg Substitute (i.e. Egg Beaters)
1/4 cup Skim Milk
1/4 cup BiPro, Unflavored, Whey Protein Isolate
8 ounces Diced Ham
1/2 tsp Garlic Salt
1/2 tsp Black Pepper
3/4 cup Reduced Fat Cheddar Cheese, Shredded
Directions:
1. Mix together all ingredients except cheese until well blended.
2. Pour into greased 2 quart casserole.
3. Bake at 350°F for 35 minutes or until set.
4. Sprinkle with cheese and bake several minutes longer until cheese is melted.